What to do when you are avoiding a project…You start a new one! (or 3).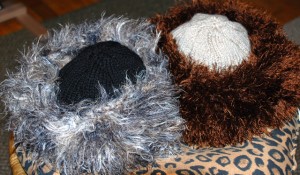 I'll tell the story of what I was avoiding finishing after I show the avoidance project! I saw a beautiful woman last winter wearing a Cossacks style hat (a cap with a very wide fur cuff style brim). Around the same time, viagra 60mg a friend of mine created a knit hat in a similar style. I couldn't find exactly what I wanted, so I made up my own pattern and was extraordinarily pleased with the result. I used a nice soft Moda Dea washable wool for the cap and put in a spiraled star pattern of decreases. Then I used 3 skeins of Moda Dea Chichi for the fur, which has a lovely shaggy fur texture.
Then I picked up a nice cream color wool to make one of these hats for my friend Allison, but while waiting for the outrageous pink Tiara fur from Moda Dea, I picked up some Lion Brand Fun Fur in Chocolate and made one for my Physical Therapist (minor knee surgery to repair a torn meniscus).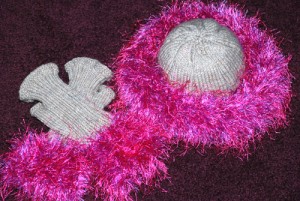 When I got the Moda Dea Tiara in, I quickly knit up the third hat. I had enough of the Paton's wool and the Moda Dea Tiara to make a pair of cuffed fingerless gloves for Allison. Yeah, that's her showing me how much she loves the set!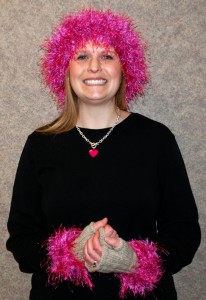 It made a perfect Valentine's Day gift!
Ok…so what was I avoiding?
Back in December I started on a hoodie from the wonderful angora/denim blend I spun up. I got as far as the pocket and realized I didn't like several things. I was following the pattern in Son of Stitch & Bitch for the Hackey Sack Hoodie. Her method for the increases on the raglan sleeve inset and the increases for the pocket just looked sloppy. I learned a little while ago about twisting the picked up stitch to get rid of holes in increases and I prefer that seamless look. The increase on the pocket was very raggedy as well. Being that this was designed for a man, the crossover neckline was bulky and high. I prefer a lower v-neck neckline, personally. And the hood was really bulky and didn't lay nice. So, despite being over half done, it got frogged.
Upon rebuilding it, I decided to redesign all the elements I didn't like into things I wanted. I could not be happier with the results so far. I'm at the same place I was when I frogged it the first time. I wish I had taken before and after photos…but I have taken after photos to show. Clicking on the picture will take you to a larger version if you want more detail.
This is what it looks like in it's current state: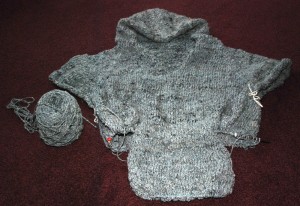 This is the new rolled V-neck neckline. It's hard to see, so I took the liberty of darkening the bottom layer in photoshop.

This is the smooth raglan seam at the right front shoulder.

This is the pocket. Instead of a simple increase at the edges, I wanted something that would lay flat and not roll, so I did two knit stitches, 1 perl, 1 knit and then the increase. It turned out really nice and lays just like I wanted it to.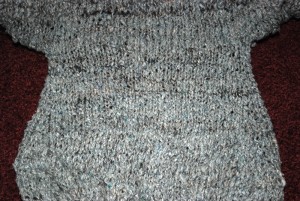 I still need to decide on how I want to do the edge ribbing, because K2 P2 just won't cut it any more. I want to vent the sides a bit as well for a nicer fit. I will also flair the sleeves just a touch to make it more feminine and match the ribbing to the bottom. It's become all about the little details to me when I create a garment. It doesn't matter if no one else notices, it's purely for personal satisfaction.
I have a couple of things now that I've spun from fiber and knit into a finished product. Brian points out that I knit like I cook, I can't follow instructions without adding my own personal touch. Just as it should be *grins*