I am pleased as can be to say I am 100% finished with Brian's shaker sweater with the shawl collar. I'm ever more thrilled that he really likes it. He was amazed at how soft and warm it is. The Babydoll Southdown wool is super springy. It holds it's shape and has an elastic nature to the yarn. Where cotton would stretch out of shape, physician this sweater will hold its shape really well. (click pic for larger detail)

This project took me a year to complete for a couple of reasons. The first was the dumbest mistake. I knit the second arm on the wrong size needles and had to frog it. Threw me off my game so I threw it to the side for months since the weather was turning to spring. Then I ran out of yarn and had to find the vendor who just -happened- to have more of the roving from the show where I got this batch, which is nothing short of a miracle. While it's a natural color (not dyed) there was no guarantee that I could color match, but having some from the same show/same batch was exactly a perfect match! These are some thumbnails of the roving turning into the yarn I used taken from previous postings.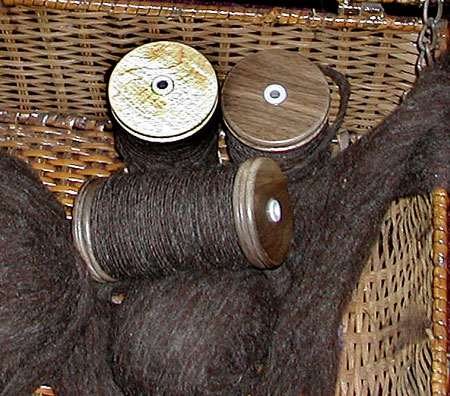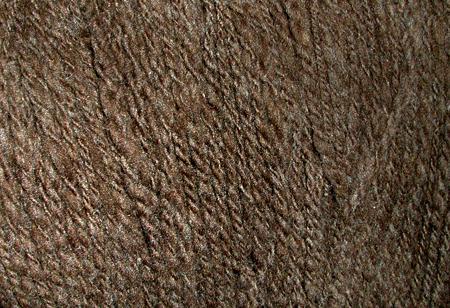 I have more of the babydoll southdown wool in white that I want to spin and then dye. I really like this wool a lot. It isn't scratchy and the springy-ness of the fiber will help keep a garment's shape like a pro!
Another project that I just finished for a sweet friend who is about to have a baby is a baby blanket that matches the gloves and scarf I made for her last year. I never took pictures of the scarf, but she really loved this silly muppet looking glove.
So, I used the same Lion's Brand Fun Fur fringe on a blanket with an ultrasoft butter yellow boucle for the rest. I also need to have her get a picture of the cap I made for her baby from the same combination. I made the band from the boucle and the cap from the fun fur. She's excited about matching when they go out now! (click pic for larger detail)
I have more spinning to do so that I can dive into some more knitting projects. I'm currently knitting up some holiday presents, so everything is in various states of completion.
Blanket adapted from this pattern.
Brian's Sweater pattern available here.