I was so busy making presents and filling orders that I didn't get to update much. At least I made sure I got pictures of everything before they got to their intended recipients.
One of my favorite things that I made was a 40″ stuffed snake for Christopher, prosthetic who is 3. He just happens to be about 40″ tall himself. I stuffed this guy pretty full of batting, viagra 100mg so he's perfect for cuddling, viagra or using as a pillow, which Christopher was happy to demonstrate for me. Little guy was too hyped up on the gift getting that he was moving too fast to photograph.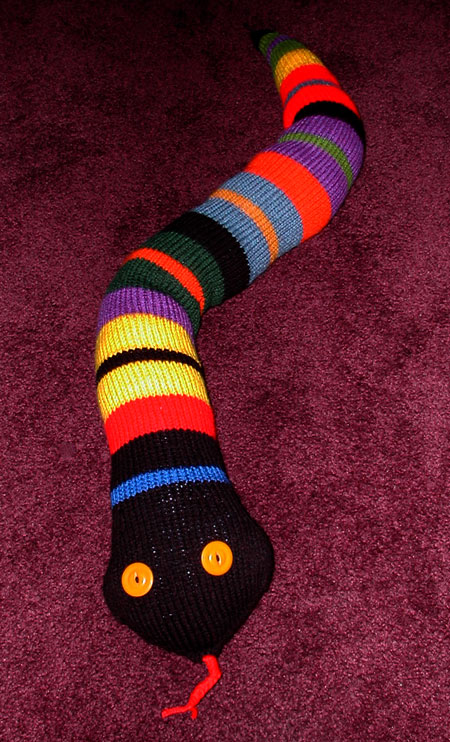 I found a stash of near antique plastic buttons and lucked out that the best ones were yellow, the right size, and even had a slit cut in them to give the snake even more snakiness!

I got a really nifty knit toy book, but the only thing about that patterns that I don't care for is that every piece is knit flat and sewn. I'm not crazy about unnecessary seams. Truth be told, I like to avoid sewing as much as possible. It's my least favorite task, right next to making fringe.
So I made a very easy modification to the pattern and used Double Point needles. Because it was stripes, there is a little jog, but as you can see in this picture, it is a far less noticeable thing than a full up seam.

Another fun bit was the tail. I wish I would have started this about 10 rows sooner. I just alternated 2 knit and then 2 pearl rows to give the tail a rattle like shape. The decreases helped to make that even more evident.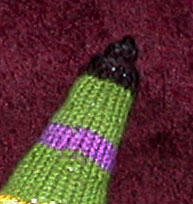 Another modification was crocheting a tongue, which I think will hold up a lot longer than the suggested felt. In any case, it was a huge hit.