The good news is that my niece Britts loved her gloves. She wore them for most of the evening and her friends seemed a tad envious. I was enormously pleased. After I made her gloves, anesthetist Brian liked them enough that I made him a short pair. He wore those to work and one of his coworkers fell in love with them, but she wanted them with, and I quote, "the fuzziest, most obnoxious yarn you can find in jewel tones." So I found the exact yarn she wanted and made her a pair. They have dubbed them "road kill gloves" 10 days before Christmas, she told me she loved them so much, she wanted a pair for her sister, but she needed them in time to ship. *chuckle* So…I did it.
Without a doubt, these are the most difficult things to photograph since they truly do look like a mop head. Or leftover muppet.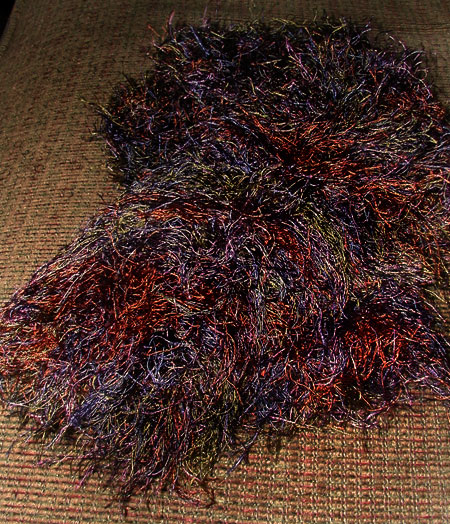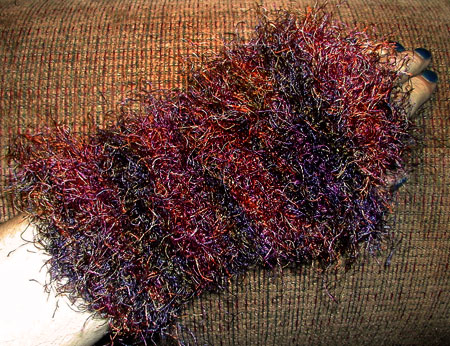 I also made her a matching scarf as a birthday gift. It earned me a big hug.
There's something totally wonderful about getting paid to knit. But…just as I had vowed to swear off eyelash yarn forever, I got another order. Honestly, this stuff is so difficult to work with because you can't count stitches or rows, so you have to be very diligent in paying attention to the pattern. Heaven help you if you drop a stitch. If you catch that you did. *rolls eyes* At least I insisted on a new color.

At the Christmas party at Brian's folks, his mom let me know she'd love a pair in black. *sigh* I will never get away from eyelash yarn.
At least folks seem to love these fun gloves. It takes me an evening a glove, working at an easy pace, and since I combined patterns to get the effects I like, this pattern is now something I can do without grabbing for the instructions.