Oh wow…I have fallen in love with a piece of workworking equipment in the worst way. Now begins the process of convincing my husband he wants me to have one to make all sorts of wonderful gifties for our loved ones.
One of said loved ones is our friend Craig who just got a brand spankin' new midi lathe. And he was kind enough to teach me how to turn a pen and even let me break in his new tools!
On Saturday, approved he handed me a piece of oak and set me up, showed me some basics and let me have at it for a while to get the feel for it. I started with a little trepidation, which vanished before I got it from a square to a round shape. I started playing with the tools and doing some beading. This was just way too much fun!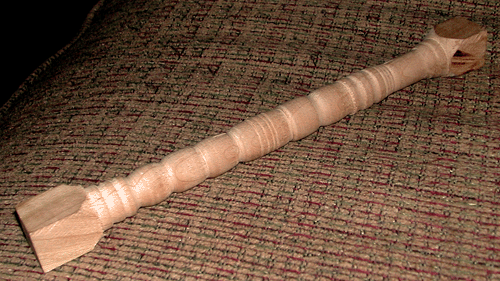 We started to refer to this as "The Beater" but I think what I'll do is finish it up some and give it a nice wax coat then turn it into a paintbrush. It's just a play piece, but it has such a nice feel to it and quite honestly, it has become a sentimental piece.
We also ran to Woodcrafters where I may have embarrassed myself a bit deeply inhaling the exotic woods and making noises about all the phenomenal tools and cool bits and…and…wow. Just like a kid in a candy store, I was. Unbeknownst to me, Craig picked up a pen kit for me and let me pick out some wood that I liked from his stock pile. Then he spent a couple of hours on Sunday teaching me how to turn the pen myself.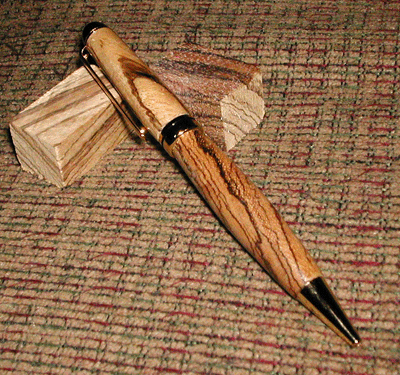 This is the finished product. It's a zebra type wood with dark black stripes in a honey color wood. The style of the pen is European. It twists open and close.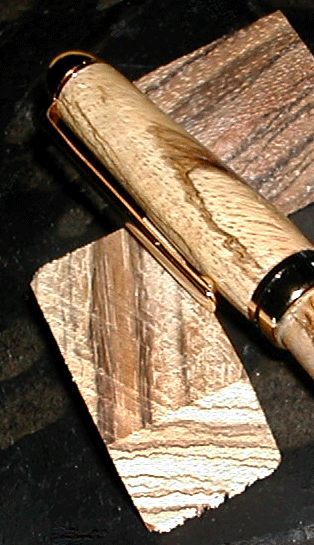 This shows the blocks of wood that the pen was carved from and the wonderful dark striations.
I really am addicted already to this fascinating process. If I'm a very good girl, perhaps the birthday fairy will be good to me next month. I have no idea what I'm going to do in the meantime!!!