Brian and I threw a Martini & Listening party on Saturday for about a dozen close friends. It was a wonderful time with great personalities, ailment amazing tastes, and much laughter. The idea was simple: Each couple brought the mixings for their favorite flavor of martini to share and everyone got to pick out a couple of their favorite albums from our vinyl collection. I provided a bevy of munchies (and other tasty treats were also graciously brought). It made for a delightful evening.
I was able to photo document most of the appetizers upon presentation save for one that wasn't done until people had started to arrive.
Clicking on the photo will take you to the recipe.
The biscotti were wonderful the next morning with coffee as well as a good, dense cookie for a sweet, yet bold appetizer.
The sage cookies were a huge hit. The texture and taste was unexpected and as savory as it was sweet. The biggest surprise is that they are made with cornmeal and had a marvelous texture.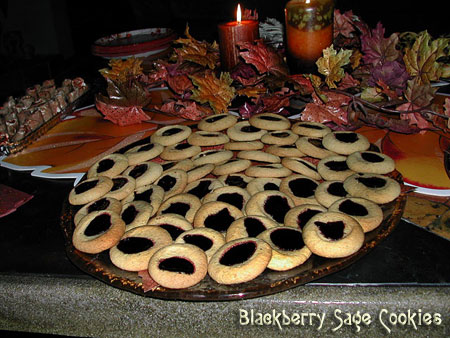 Paula Dean came through with the puff pastry pinwheels. The only modification I made to her recipe was to add a 1/4 teaspoon of thyme to the mushrooms for a richer taste. These were wonderfully easy to make.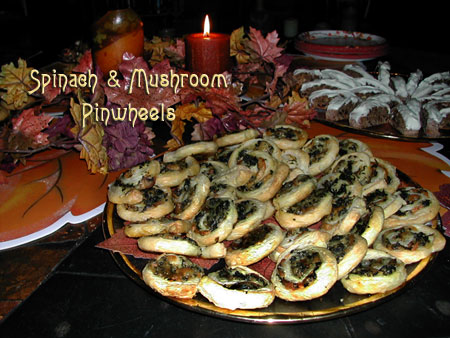 The tartlettes were fun to put together and were visually lovely. A time saving feature was to get the refridgerated pie crusts. After cutting out the rounds for the tartlettes, I cut small stars in the remaining pie dough, brushed them with a bit of melted butter and sprinkled them with Mrs. Dash Table Blend. Simple and yet it got super raves from my guests.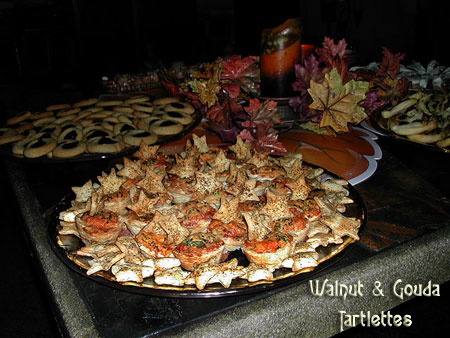 Ham roll-ups are so well known, and I wanted to add some meat to the appetizer choices, so I did a slight variation that were well recieved. I used an onion & chive cream cheese along with a sun-dried tomato and bourbon spread I created.
A last minute taste inspirtion helped me create the filling for this amazing crescent roll wreath. Ricotta and parmesan cheeses with marinated artichoke hearts and green onions made it the best dish of the night. It came out of the oven as people were arriving so it didn't make it to the table in time for proper presentation.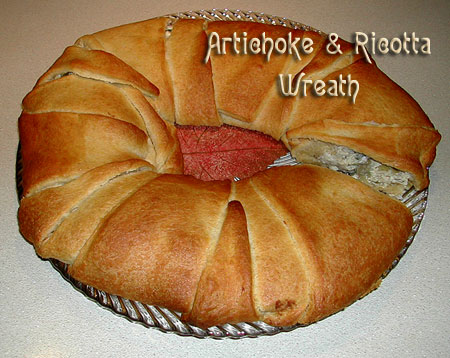 My dear friend and artist Jen brought a lovely surprise for ever guest. A martini glass charm keepsake so that everyone could identify their glasses. She made them from their personal Live Journal icons!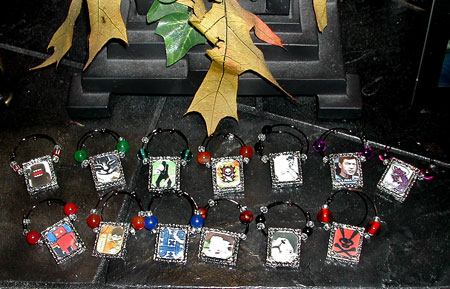 She also made a set of 6 for me and Brian to keep. These are so clever and fun!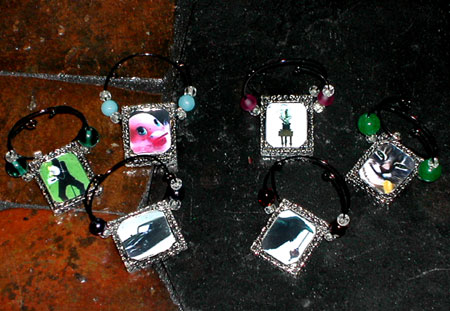 The Martini Flavors:
Coffee Lover's Martini: Vanilla vodka, Coffee liqueur, Frangelico
Yoohoo Martini: Vanilla vodka, Godiva cream liqueur, Chambord
Chocolate Orange Martini: Vodka, Godiva liqueur, Triple Sec
Windex Martini: Vodka, Blue Curacao, Pineapple Juice
Pineapple Upside Down Cake Martini: Vanilla vodka, Pineapple Juice, Grenadine
Appletini: Apple Vodka, Apple Pucker