About a week ago I started a holiday gift for my niece. Some fingerless elbow length gloves with an awesome snowflake that turns into a skull pattern I found on The Anticraft website. I found an awesome yarn from Lion Brand called Micro Spun. It's so decadently soft! The snowflake/skull pattern will be in a silvery grey.
I forgot how much I enjoy knitting with double point needles

I'm actually really rather proud of how consistent I can keep my stitches. The needles are a size 3 US/3.25mm.
I fell in love with elbow length fingerless gloves last winter. I had some jet black alpaca fiber that I spun for these, pharmacy then I went the distance and even knitted them up with cables. I am looking forward to the cold weather just to wear them again. I love the feel of alpaca, seek and these are perfect since I like to wear capes more than coats. Perhaps I should consider making myself some thigh high alpaca socks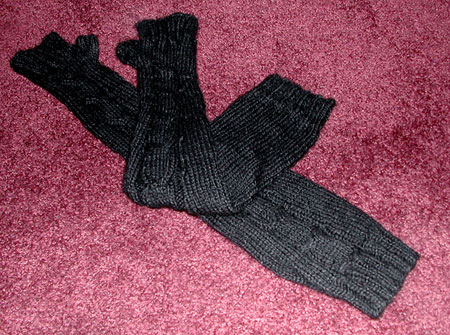 This will be perfect to help keep my damaged wrist warm and comfy this winter.
Looking over my recent posts, I realized I didn't document the 24 oz. of Leicester I got last year. I love the colors, but it's too scratchy for a sweater. I need to find a good project for it and quit buying pretty colors on itchy fiber.
I have also made firm plans for my birthday weekend to go to the fiber festival at the Allegan County Fairgrounds. Why no, making birthday plans 10 and a half months in advance is not presumptuous! I just have a lot of projects to finish between now and then!